MPT-70

MPT-70 Audio Distribution Interface
(Isolated 70-volt Interface)
Six 70-Volt Outputs at 75 Watts Each
Convenient Back-Panel Barrier Strip Connections
Outputs Can Be Combined for 2X Power
Components Available for Partial Build (1-5 Channels)
Most Cost-Effective and Flexible Design
The MPT-70 allows the MPR-450 power amplifier to provide 70-volt operation for distributed sound systems. The system allows six independently-adjustable 70-volt zones at 75 watts each. Outputs may be combined for 150-watt or 300-watt zones. Convenient barrier strips are provided at the back panel.

The Miles Technology MPT-70 provides six independent 70-volt output channels, at 75 watts each (450 watts total), in a compact, rack-mount package.

Designed to work with the MPR-450 Six-Channel Power Amplifier, the MPT-70 is perfectly suited for distributed sound systems and applications requiring efficient audio power transmission over long distances, such as ceiling speaker installations, paging systems, background music, and multi-room installations.

The multichannel design approach of the MPT-70 and MPR-450 combination provides superior system performance by allowing very precise and convenient control of sound levels, resulting in better sound distribution throughout the venue.

Each of the six MPT-70 outputs is fully isolated, providing improved safety and total ground isolation.

The 70-volt outputs can be combined in pairs for additional flexibility. 150-watt and 300-watt outputs can be created at 70 volts or 140-volts, which can be used in combination with 75-watt outputs.

The design of the MPT-70 saves installation time also. The unit is built into a complete rack chassis, and all connections are made to heavy-duty barrier strips on the back panel, conveniently accessible at the back of the equipment rack.

For applications not requiring all six 70-volt outputs, the MPT-70 components are available individually. The MPT-70C is the chassis with barrier strips, retained fasteners, and supplied with all necessary mounting hardware.

The MPT-70XF is one 70-volt, 75-watt transformer. Assembly into the MPT-70C is quick and simple, using a minimum of hardware and solderless connectors.

Made with pride in the U.S.A., all Miles Technology products are backed with our comprehensive three-year warranty.




Back Panel
---
MPT-70 Specifications
Output Power
75 watts per channel at 70.7 volts (67-ohm load)
Load Impedance
67 ohms or greater per channel
Frequency Response
20 Hz to 20 kHz, +0/-3 dB
Total Harmonic Distortion
< 0.05%, 1 kHz, at rated output
< 0.5%, 50 Hz to 20 kHz, at rated output
Turns Ratio
1:4
Voltage gain = 12 dB
Input/Output Connections
Barrier strip terminals, 6-32 screws, 0.375-inch centers.
Dimensions
3.5 in. x 19 in. x 12.7 in.
(8.9 cm x 48.3 cm x 32.3 cm)
Weight
30 lbs (13.6 kg)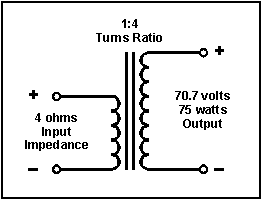 Channel Configuration


---

The MPR-450 Six-Channel 450-watt Power Amplifier is perfect for driving the MPT-70 in multi-zone and distributed sound systems. Rated at 75 watts per channel into 4 ohms with all channels driven, it is designed for continuous, demanding use.

Its six independent amplifier channels each have a balasnced input and a back-panel gain control. Indicators show signal presence and clipping for each channel. Cooling is accomplished with a variable-speed, super-quiet fan. The unit is fully protected from short circuits, high temperature, and DC offset.

---